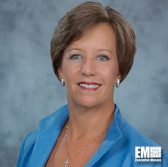 Rebecca Cowen-Hirsch of Inmarsat Government has said the Protected Anti-Jam Tactical Satcom program"™s goal to protect both government and commercial satellite networks is a "very interesting shift and a very important focus," SpaceNews reported Monday.
"If one is jammed, you have other systems to fall back on," Cowen-Hirsch, senior vice president for government strategy and policy at Inmarsat Government, said of PATS.
PATS is a U.S. Air Force program that intends to provide a resilient military satellite communications platform to help warfighters carry out tactical missions in contested environments and is composed of satellites, ground stations and user terminals.
She also cited the possibility of having a government-owned Protected Tactical Satcom system and its potential implication for how the Defense Department plans to procure commercial satcom services in the future.
"It will be interesting to see how Air Force Space Command prioritizes commercial and military satcom in an operational environment so you can have the right effects for the warfighter," Cowen-Hirsch noted.