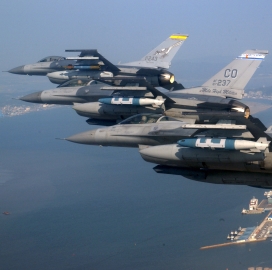 An L-3 Communications division has received a contract from Poland's ministry of national defense and support directorate to provide maintenance and technical services in support of updates on the Polish air force's F-16 Aircrew Training System.
L-3 Link Simulation & Training will also provide repair parts and spares for all training devices under the F-16 ATS program as part of the indefinite-delivery/indefinite-quantity contract, L-3 said Thursday.
The L-3 Link-built F-16 ATS program consists of two squadron-level trainers, F-16C/D Block 52 Full Mission Trainer system, computational platforms as well as instructor operator stations.
The contract has a base term of two years that will run through the fourth quarter of 2018.
Full Mission Trainer systems work to help pilots practice takeoff and landing operations, emergency procedures, formation and aerial refueling missions, while the squadron-level trainer works to help aviators practice emergency and basic flight operations.