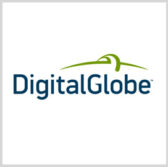 DigitalGlobe has entered into a tentative agreement to provide an unidentified international defense and intelligence agency with direct access to a commercial Earth observation satellite with the receipt of a letter of intent.
The company said Wednesday the agreement will cover access to high-resolution Earth imagery from DigitalGlobe's WorldView-4 satellite for a period of three years and brings the total amount of annual revenues from contracts with international intelligence and defense clients to $43 million.
Jeffrey Tarr, CEO of DigitalGlobe, said direct access to WorldView-4 will work to help the agency customer address regional security challenges.
The letter of intent comes a month after DigitalGlobe and another unnamed international defense and intelligence agency agreed to extend access to WorldView-3 satellite for another four years.
DigitalGlobe said it has secured $355 million in direct access capacity commitments from clients for WorldView-3 and WorldView-4 since the third quarter of 2015.
WorldView-4 is set to be launched in September.