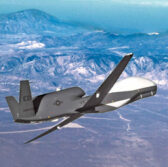 Research and Markets has released a new report that predicts the global unmanned aerial vehicle flight training and simulation market will grow 6.06 percent year over year from 2014 through 2019.
The Research and Markets report indicates an increasing application of electric UAVs in the defense and commercial industry because this type of drone helps the military to conduct spy missions without noise.
Other applications of electric UAVs include aerial photography, three-dimensional mapping, wildlife protection and agriculture, according to the report.
Tier-one market players mentioned in the report are:
CAE
Israel Aerospace Industries
L-3 Link Simulation and Training
Selex ES
Simlat
BAE Systems
Northrop Grumman
Textron Systems
Thales Training and Simulation