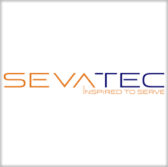 Sevatec will assist in the U.S. Citizenship and Immigration Services' work to implement an identity, credential and access management system under a prime contract.
The company will develop and maintain the identity and access management environment of USCIS in collaboration with DSFederal, Sevatec said Tuesday.
"We are honored to continue supporting these mission critical priorities tied specifically to USCIS mission objectives," said Sonny Kakar, Sevatec CEO.
"A key aspect of the ICAM program within USCIS is the use of agile development methodologies, continuous integration, continuous deployment practices, and migration to the cloud," added Sonny Kakar.