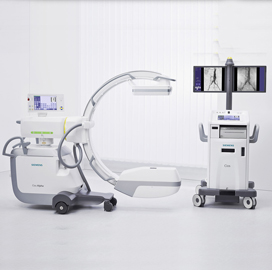 Siemens' healthcare unit has received clearance from the Food and Drug Administration for the company's mobile C-arm system, which is built with features designed to aid surgical teams during procedures or operations.
The company said Wednesday the Cios Alpha works to generate high-resolution and high-contrast images, has a 25-kilowatt power output and flat-panel detector and has radiographic collimators.
Laurie Fisher, VP for X-ray products at Siemens Healthcare, said the company built Cios Elpha to "deliver the highest-quality images at the lowest possible dose during surgery."
"This new C-arm system is ideal for a wide range of surgical procedures, including vascular, orthopedic, and urological," Fisher added.
Cios Alpha contains a touch screen interface, a storage feature and a cooling system built to generate images during prolonged interventions.