Northrop Grumman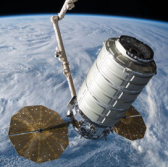 's Cygnus spacecraft left the International Space Station on Friday to deploy six CubeSats into orbit.
The company said Sunday the spacecraft, also known as S.S. J.R. Thompson, will use the NanoRacks deployer to field AeroCube 12A and 12B satellites from Aerospace Corp. and four other CubeSats that will join Spire Global's constellation of weather satellites to support weather and ship tracking operations worldwide.
Cygnus, which docked for 52 days at the orbiting laboratory, departed with at least 6,600 pounds of disposable cargo and is set to re-enter Earth on July 30.
"This mission once again demonstrates the expanded capabilities for Cygnus and paves the way for future mission objectives," said Frank Culbertson, president of space systems group at Northrop.
Cynus' departure came days after the spacecraft tested its reboost capability to raise the space station's orbit through a 50-second engine firing test.
The spacecraft lifted off in May aboard the Antares rocket as part of the company's ninth cargo resupply mission to deliver approximately 7,400 pounds of experiments and crew supplies to the ISS.