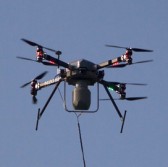 Drone Aviation has obtained a patent from the U.S. Patent and Trademark Office for its electric tethered technology designed for use with its unmanned aerial systems.
The company said Wednesday the Electric Tethered Aerial Platform serves as the core system for its WATT and BOLT tethered UAS.
Jay Nussbaum, chairman and CEO of Drone Aviation, said the patent expands the company's intellectual property portfolio that covers commercial licenses to autonomous flight management and vision-based navigation software that Drone Aviation acquired in 2015.
The Georgia Tech Research-built UAV simulation platform is also included in Drone Aviation's IP portfolio.
The WATT drone works to perform aerial monitoring functions as well as collect and transmit sensor data to the ground via the Kevlar-armored tether.
The drone is designed to operate at an altitude of up to 400 feet for at least eight hours.