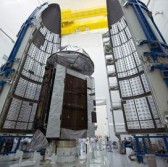 Lockheed Martin has finished the encapsulation of a fourth Mobile User Objective System satellite for military communications into a protective launch vehicle fairing platform.
MOUS-4 is scheduled to lift off Aug. 31 from Cape Canaveral Air Force Station in Florida aboard an Atlas V rocket and would be the newest addition to the U.S. Navy's mobile communications satellite network, Lockheed said Thursday.
"For our mobile forces, that means for the first time they will be able to have secure, high-fidelity voice conversations, networked team calls and data exchange, including video, with anyone around the world connected with a MUOS terminal," said Iris Bombelyn, vice president of narrowband communications at Lockheed Martin.
A team of Navy, Air Force and Lockheed personnel tested the satcom technology in Antartica.
During the demonstration, the team gathered information about the system's capability to transmit voice and data communications from a remote location and will use the findings to improve system performance.
Lockheed encapsulated MUOS-4 at a facility run by the company's Astrotech Space Operations subsidiary.
A fifth satellite would serve as wideband code division multiple access spare and could launch next year, the company said.