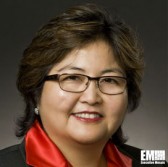 Lockheed Martin has tested the U.S. Navy's fourth Mobile User Objective System satellite for extreme temperature endurance.
The company performed the thermal vacuum test at its Sunnyvale, California-based satellite integration facility and MUOS-4 is scheduled for launch in the second half of 2015, Lockheed said Monday.
"The successful completion of thermal vacuum testing assures that MUOS-4 can endure the extreme hot and cold temperatures it will experience throughout its on-orbit mission life," said Iris Bombelyn, vice president of Lockheed's narrowband communications mission area.
The satellite is designed to help users transmit and receive voice and data using an Internet Protocol-based system.
MUOS-4 is scheduled for launch next year to join the Navy's MUOS constellation.