Vernon Saunders has been with the industry for decades. Recently, he became the new CEO of the Freedom Consulting Group. Read here to learn more about Vernon Saunders, CEO of Freedom Consulting Group!
Who is Vernon Saunders?
Vernon Saunders serves as the chief executive officer of Freedom Consulting Group. Saunders formerly served as the Senior Vice President of National Intelligence at Science Applications International Corp.
Before joining SAIC, Saunders spent almost two years with HII Technical Solutions as the general manager of data and mission IT services.
Vern holds a Bachelor of Science in Electronics from Norfolk State University and a Master of Business Administration from Averett University. In addition, Vern holds a Master's Degree in Federal Government Contracting from Villanova University. He also finished the Project Management Professional certification from the Project Management Institute.
Vernon Saunders Leadership Timeline
Vernon Sanders has over three decades of expertise in the industry. He has held different leadership positions in other companies. Here is Vernon Saunders's career timeline.
Chief Executive Officer at Freedom Consulting Group, LLC (Feb 2023 – Present)
Board Member at Urban League of Northern Virginia (Mar 2021 – Present)
Senior Vice President, National Intelligence at SAIC (Oct 2021 – Feb 2023)
General Manager for Data & Mission IT at HII Technical Solutions (Aug 2019 – Oct 2021)
Vice President, General Manager, National Security Solutions at Jacobs (Jul 2015 – Aug 2019)
Vernon Saunders as the CEO of Freedom Consulting Group
Vernon Saunders became the chief executive officer of Freedom Consulting Group in February 2023. Vernon Saunders has taken on many responsibilities, including the following:
Supporting the federal government and commercial clients in intelligence, business intelligence, data analytics, and engineering services
Overseeing the group of specialists and leaders that all work together in advancing various information technology sectors
Ensuring that the company's skill base in data analytics, web development, cloud computing, DevOps, and other areas is of the highest possible quality
About Freedom Consulting Group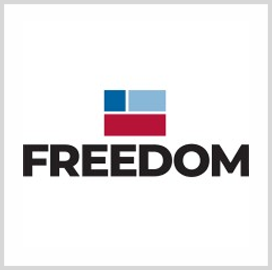 Image from Freedom Consulting Group LinkedIn
Freedom Consulting Group (FCG) is a firm of professionals equipped with extensive knowledge and experience in many areas of IT. The company offers business intelligence and data warehousing services, geographic information systems, data engineering solutions and analytics, software engineering, web application projects, cloud computing, and DevOps for the government and other clients.