Stephen Homeyer is an accomplished engineering professional with over three decades of experience in government and commercial sectors. Throughout his career, Homeyer is successfully adept in basic and applied research, development, technology, and other capabilities. Get to know more about Stephen Homeyer, BAE Systems' Vice President of Intelligence Strategy
Who is Stephen Homeyer?
Stephen Homeyer is the Vice President of Intelligence Strategy at BAE Systems since November 2020.
Aside from holding office at BAE Systems, Homeyer has been appointed as one of the newly elected directors at INSA (Intelligence and National Security Alliance) since 2023. As part of the 18-member board of directors, he encourages public-private partnerships through business oversight and strategic guidance.
With industry expertise in national security priorities, intelligence, and research-grade capabilities, Homeyer teaches undergraduate and graduate-level courses as an adjunct faculty member for several institutions.
Educational Background
Stephen Homeyer has an impressive educational background finishing Cum Laude with honors for his bachelor's degree. His academic accomplishments include the following:
Bachelor of Arts with a dual major in Chemistry and Mathematics (B.A.) at Huntingdon College (1986), where he graduated Cum Laude
Master of Science in Inorganic Chemistry (M.S.) at Northwestern University (1987)
Doctor of Philosophy (Ph.D.) in Chemistry at Northwestern University (1989)
What are the roles and responsibilities of Stephen Homeyer as the Vice President of Intelligence Strategy?
As BAE Systems' Vice President of Intelligence Strategy, Stephen Homeyer leads a team of analysts, data scientists, and researchers in developing and managing the company's systems and applications. Working with the government for most of his career, he's also involved in federal contracting practices and acquisitions.
What are the previous experiences of Stephen Homeyer?
Stephen Homeyer has over three decades of experience in various industry specialties. He started his research career at AlliedSignal Research & Technology Center, an affiliate of Honeywell Industries. He engaged in nanotech and aerospace initiatives and served as:
Senior Research Chemist (1989-1994)
Aerospace Business Unit Liaison (1994-1999)
After serving in the commercial sector, Homeyer joined the Federal Bureau of Investigation–Laboratory Division, focusing on forensic sciences, research, and development. He was instrumental in counterterrorism efforts, especially after the 9/11 attacks, serving in roles such as:
Chief of the Counterterrorism and Forensic Science Research Unit (1999-2004)
Acting Chief of the Forensic Science Support Section (2004-2005)
With his specialty in research and development efforts, Homeyer focused on new capabilities for defense products, including highly advanced prototype sensors and data exploitation tools. During his tenure at the National Geospatial-Intelligence Agency, he served in different positions, such as:
Director of the Basic and Applied Research Office for InnoVision Directorate (2005-2011)
Senior Strategy Advisor for Science and Technology for Office of the Director of National Intelligence Science & Technology (2013-2015)
Deputy Director of the Research Directorate (2016-2018)
Before joining BAE Systems, Homeyer helped build the Joint Artificial Intelligence Center for the Department of Defense as the Deputy Director from 2018 to 2020. He provided critical intelligence tools and expertise for the agency's mission areas, such as warfighter health, cyber, predictive maintenance, humanitarian assistance, and more.
What are the awards and accomplishments of Stephen Homeyer?
Stephen Homeyer is an award-winning professional, receiving recognition for his contributions to the intelligence strategy sector and the academe. He has authored over 20 peer-reviewed, patented multiple technologies and received major technical awards.
Here are some of Homeyer's awards and accomplishments.
Technical Achievement Award for "Novel Ozone Destruction Catalyst for B777," Best Patent Disclosure Award for "Air Quality Systems," and Special Recognition Award for "Air Quality Initiative Leadership" for the development of a $100-million business opportunity for AlliedSignal
"Catalyst Technology Leadership Team Award" for his change-leadership initiatives as Aerospace Business Unit Liaison
"Exemplary Performance as Acting Section Chief" from the Federal Bureau of Investigation for reducing Laboratory backlog
About BAE Systems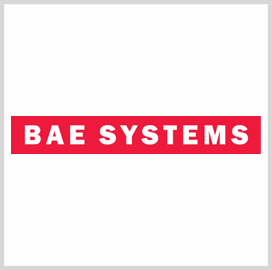 Photo from BAE Systems Official Website
BAE Systems is a multinational aerospace, defense, and security firm based in London, England. The company's U.S. subsidiary is one of the largest defense contractors, having won multiple trillion-dollar contracts from various agencies of the Department of Defense. Founded in 1999, the company is led by Tom Arseneault as the Chief Executive Officer and Pete Trainer as General Manager.