Chris Merdon is the Group President of NTT DATA Services Public Sector, a position he has held since August 2022. NTT DATA Public Services sector works with government agencies to navigate the complexities of public sector-focused business and technology.
Who Is Chris Merdon?
Christopher Merdon is a highly experienced professional with a deep understanding of the government sector, having served as an elected official and a chief information officer. He is an experienced State and Local government and Education (SLED) President with a proven record of providing innovative technology services to government and education entities for the past 30 years. Merdon's diverse skillset includes sales, profit and loss management, and effective people management.
Chris Merdon at NTT Data Services
Chris Merdon delivers technology-driven solutions for public sector clients in the United States and Canada. Before this role, he led a team of 1,500 professionals supporting state and local governments and educational institutions.
Career Timeline
Chris Merdon joined NTT DATA's Public Sector team in 2016 and was promoted to divisional president in August 2020. Here is an overview of Merton's career timeline:
Group President at NTT DATA Services (April 2022–Present)
Division President at NTT DATA Services (August 2020–April 2022)
Senior Vice President of State and Local Government and Education (November 2016–August 2020)
Chief Information Officer at Howard County Government (September 2013–November 2016)
Senior Vice President at American Traffic Solutions (January 2012–August 2013)
Executive Director of Public Sector Sales at J.P. Morgan (April 2010–December 2011)
Senior Vice President at Xerox (September 2003-April 2010)
Councilman at Howard County Government (December 1998–November 2006)
Director of Government Sales at CSC (September 1999–August 2003)
About NTT DATA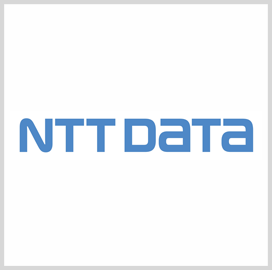 NTT DATA is a global IT services provider headquartered in Tokyo, Japan. The company started when the Nippon Telegraph and Telephone Public Corporation supported Japan's telephone and communication services. NTT Data supports clients beyond the IT sector. It delivers sustainable solutions that address social challenges, including environmental conservation, disaster prevention, and risk mitigation.