The U.S. Air Force is one of the pillars of the American military. Its scope and reach are vast, encompassing airmen, warfighters, strategists, uniformed Pentagon-based executives and more. Now that the U.S. Space Force is officially under the umbrella of the Department of the Air Force, the service branch's overview and impact are even greater. How could one possibly capture all of this activity and responsibility in one day's worth of programming? The Potomac Officers Club is going to try.
On July 18, POC is hosting the 2023 edition of its Annual Air Force Summit, which gathers the most crucial voices and decision-makers in the DAF to share their thoughts about the state of the global power struggle and start consequential conversations. If you have a stake in the Air Force and want to better understand its near- and long-term objectives, this is a must-attend event. Register here today.
The event, which will begin at 7 a.m. and conclude at 2 p.m., will offer many opportunities for audience questions and networking with both other industry members in attendance — POC is a government contracting-focused organization — and the speakers involved in the keynote, fireside chat and panel discussion segments.
Here is a preview of some of the most prominent names who will grace the stage:
Frank Kendall, Secretary of the U.S. Air Force
Kendall will be celebrating two years in his role as Air Force Secretary when he takes the stage at the Hilton-McLean in Virginia on the 18th. Kendall boasts a long career that began in the early 1970s as an active duty Army officer. He subsequently honed his expertise in acquisition and defense technology with a stint as assistant deputy under secretary of Defense for strategic defense systems in the mid-1980s. Later, he gained private sector experience at major companies like Raytheon (now RTX) and Renaissance Strategic Advisors and as an independent consultant. He returned to the Pentagon in the 2010s as Under Secretary of Defense for Acquisition, Technology and Logistics, before sitting on the board of directors for Leidos for two years. Kendall has won the Wash100 Award, GovCon's most prestigious honor, four times, including in 2022 and 2023.
At the helm of the DAF, Kendall administers a budget of over $173 billion. Tune into his opening keynote address at 8:05 a.m. to hear how he plans to allocate those precious dollars and how your company can best serve the DAF's needs.
Dr. Lisa Costa, Chief Technology and Innovation Officer at U.S. Space Force
Costa also came into her position about two years ago, in Aug. 2021. Her title is a many-hatted one: as CTIO, Costa performs duties as chief scientist, chief analytics officer, chief data and artificial intelligence officer, chief information officer and chief technology officer. It is a position unlike any other in the Department of Defense, making Costa a formidable player in shaping the direction of the United States' presence and command of the space domain. A fellow recipient of the Wash100 Award, Costa has also earned honors for her achievements in engineering and intelligence collection.
Costa will participate in a panel discussion at the Air Force Summit at 11:45 a.m. entitled "Rebuilding Readiness: Digital Transformation Needs for Sustained Peer Competition." She will be joined by experts such as the DAF's Chief Digital Transformation Officer Stuart Wagner and the Air Force Material Command's Director of Aerospace Systems Directorate Dr. Michael Gregg.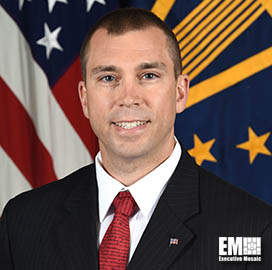 Dr. Derek Tournear, Director of the Space Development Agency
In October 2022, the Space Development Agency was notably reassigned to report directly to USSF and thus to the DAF. This critical move made Tournear, a trained physicist, a newfound asset to the Air Force. Tournear brings significant government research and development experience to SDA, as well as lessons learned in the private sector. In the R&D realm, he was a senior program manager at the Intelligence Advanced Research Projects Activity and a program manager at the Defense Advanced Research Projects Agency. In terms of industry, he was director of the Harris Space & Intelligence R&D division, leading a $2 billion business unit. Like Kendall and Costa, is a winner of the esteemed Wash100 Award.
In stewarding the SDA, Tournear is concentrating on advancing the agency's goal of establishing a layered space architecture in order to facilitate dependable and sustainable advanced digital communications and capabilities to trusted U.S. endpoints. At the Air Force Summit, he will be delivering the closing keynote fireside chat.
This event has only limited tickets remaining. Don't miss out on gaining access to these invaluable insights and having a chance to rub shoulders with some of the best and brightest among your GovCon peers, government officials and military leaders. Register for POC's Air Force Summit today!