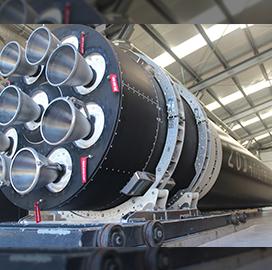 Rocket Lab is scheduled to deploy seven small satellites on July 3, three weeks after sending five payloads into orbit for the National Reconnaissance Office, NASA and the Australian government.
The company said Monday its next mission, dubbed "Pics Or It Didn't Happen," will launch aboard the Electron rocket on Mahia Peninsula, New Zealand, and carry smallsats from Canon Electronics, Planet and In-Space Missions.
CE-SAT-IB, an Earth imaging microsatellite Canon Electronics built for Spaceflight, will be the primary payload of the upcoming launch effort.
Planet will provide five SuperDove spacecraft equipped with sensors that work to help researchers examine landmass datasets.
In-Space Mission will supply its Faraday-1 6U CubeSat as part of hosted payload demonstration.
"We've focused heavily on shoring up our rapid launch capability in recent years and we're proud to be putting that into practice for the smallsat community with launches just days apart," said Peter Beck, founder and CEO of Rocket Lab.
The company, which aims to build an Electron rocket every 18 days, noted it will support a Space Force mission in the third quarter and a NASA mission next year.