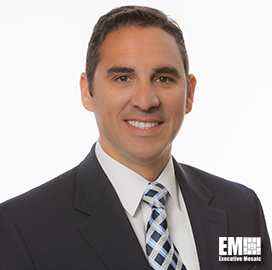 Chris Bellios, chief operating officer (COO) of Hexagon US Federal, recently spoke with ExecutiveBiz regarding the company"™s recent growth, talent recruitment and retainment and how Hexagon US Federal will evolve technology to cater to the Intel and defense industry.
"Our company delivers geospatial software tools that integrate and visualize data boosting efficiency, productivity, and quality across the Federal market. Those tools are able to capture vast amounts of real-time data and visualize it in a way that allows analysts to manage the volume. That's the value to our clients in producing those solutions and what makes our people special."
ExecutiveBiz: What are the key elements of Hexagon"™s technology and professional services that contribute to Great Place to Work?
"We are the largest geospatial technology company in the world. We provide a wide array of faithful technology solutions commercially and internationally. At Hexagon US Federal, we take those commercial and international technology solutions and we look at what's best suited for the federal government. Instead of saying, take this product, we look to see what is unique in the federal government's challenges, and implement those customer-specific solutions.
In regards to Great Place to Work, our workforce is engaged when they are alongside the customer. They go beyond feeling like contractors when they're working with the operators or in mission areas because they feel a connection to the mission. It makes them feel more connected to the company and more connected to the customer, which results in greater job satisfaction.
We took on a challenge to try to get certified this year as a Great Place to Work. To achieve the certification, there are criteria that you have to accomplish. As a company you must score in a high percentile in positivity through this survey.
We were really pleased to score well and we received great feedback. Our certification was really a morale builder for us and I think it's a positive sign that our workforce is happy and we"™re moving in the right direction when it comes to job satisfaction."
ExecutiveBiz: What are some of the factors that have contributed to the company"™s exponential growth?
"In 2018, the business had declined, and so it was clear that we needed to bring in talented leaders to address this issue and go in a different direction. Prior to Hexagon US Federal, the company"™s predecessor was Intergraph. The foundation was solid and we worked to build on that legacy and expand in new areas.
We also started focusing on new technologies and we've been really fortunate in almost all the new pursuits that we went after. A big part of that was in geospatial data production. A lot of the technology was there and just needed to be enhanced.
At our largest Federal customer, we were successful in our pursuit. We shifted from being a subcontractor and became a prime ourselves. We also took a customer-centric approach where we went out to speak with them and describe our new concepts. We did a lot of hard work to rebrand and understand our customers' challenges and we were successful.
So, I wouldn't say that there was one key element to our success, but it was an insertion of new ideas and new energy. We hired leaders who attacked the new challenges and achieved success."
ExecutiveBiz: How has the company recruited talent in the Federal Sector?
"We"™ve brought in close to 300 employees in the last two years, so we had to do things a little bit differently. We fostered strong partnerships with academia and found institutions and universities that had programs, ranging from geospatial to artificial intelligence (AI), where they are teaching students about the technology of what's needed today. Machine learning (ML) and AI require a different skill set.
We took a more proactive approach and tried to partner with universities that have unique programs for military personnel because that group of talent is already coming out with the right clearances, and with their degrees, they can immediately reenter the workforce.
There's a lot of talent coming out of the military, so our approach is to partner with these universities and actually give them real work for capstone projects. We take work from our programs and give them a project for the students to complete upon graduation.
Then what you have there is an employee that's not only fully trained, but ready to go day one. This is not their first experience with industry. They've already been working on geospatial technologies. They're coming in and ready to hit the ground running.
Another effort we"™ve put a lot of time and attention toward is partnering with small businesses. We"™ve tried to build a consortium of technology through industry partners to support federal agencies. This also allows us to bring a known team to a client challenge, and have a group of companies to leverage to bring the right workforce."
ExecutiveBiz: How has Hexagon US Federal retained talent that the company has recruited?
"I wanted to see what the data said. The fact that we got certified as a Great Place to Work is great, but where did we not score well? Then we focused on those areas. Not everybody is going to feel like it's a great place to work. You can't make everybody happy, but you can see trends in the survey results as a way to continue to develop and evolve our workplace.
One of the ways we improved was through the launch of our leadership program. When you're a federal contractor and you're providing an employee to the government, they're typically getting paid for a job in a specific labor category. The leadership program is an opportunity for people who want to advance their career in a way they can"™t in their contracted position.
We created a company program where our workforce can take online training. So we've provided this online leadership training and all they have to do is sign up. Once they get accepted, they can take as many courses as they want, paid for through our formal education fund.
We're also putting together a certification course. So twice a year, our workforce can coordinate with their manager to volunteer to go to a certification course, and become a certified manager, or project manager. The reason you create a program like that is to enable someone who may be limited by their contract job but wants to advance themselves academically. Those are a couple ways we are working to retain our employees."
ExecutiveBiz: How has Hexagon US Federal advanced technology innovation in the company"™s intel and defense divisions?
"We provide software. We have taken Google maps and customized them for the federal community. We have computer aided dispatch for military service branches, like the Marine Corps, and provide them 911 geospatial service support.
But how do we do that? What's new? You take those areas and focus on the volume of data, because right now there's just an overflow of it. It's staggering. How do you deal with that data? Our new initiative is to take the data in its native form, not repurposing or rebuilding it, and we apply ML to manage the volume.
Then, our software tool for integrating can visualize it. You can take vast amounts of data and make sense in a visual way, so that analysts can understand what's going on. That's the value of AI/ML. We're trying to focus on solutions where the analysts are spending less time collecting the data and more time analyzing it.
To summarize, our tool helps visualize that data in a way that makes sense, so that analysts can observe it. The heart of intelligence is to provide you information, so analysts avoid spending all of their time collecting information rather than doing what their title suggests; analyzing it. We're working hard to bring comprehensive software solutions to amalgamate the data, visualize it, and let the intelligence analysts do their job."