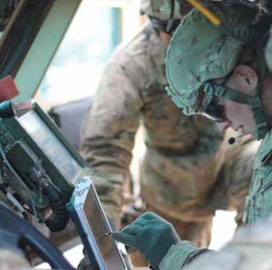 SpaceX and the U.S. Army have signed a three-year agreement to test the capability of Starlink broadband in transmitting data across military networks, SpaceNews reported Tuesday.
The C5ISR Center within Combat Capabilities Development Command will oversee the project as part of the cooperative research and development agreement.
CRADA will "allow the Army to understand potential applications of state-of-the art advancements in commercial RF SATCOM such as the new Starlink LEO constellation and modern SATCOM terminal developments capable of tracking LEO satellites," an Army source told the publication.
Under the project, the service branch will identify systems integration work requirements, ground equipment needed to facilitate use of Starlink, cost of equipping units with ground terminals and data security issues.