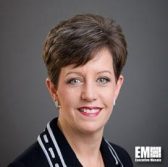 Policy experts said at the Satellite 2020 conference that strict classification of space systems could hamper reforms to the military space acquisition process, Air Force Magazine reported Monday.
"We can't be so classified that we don't reform … how we buy our stuff," Doug Schroeder, oversight executive for space in the office of the undersecretary of defense, said Monday during a panel discussion at the conference.
Rebecca Cowen-Hirsch, senior vice president of government policy and strategy at Inmarsat Government, said the extent to which industry and government can discuss future plans will help influence companies' investments in novel technologies and experiments and efforts to explore partnership opportunities.
"The partnership and the exchange of information enriches the investment of the commercial sector," Cowen-Hirsch said. "As a satellite owner-operator, it is in our inherent interest to be able to ensure that we can protect and be able to provide services from our satellites to a ground station and to all of our user community through a number of different environments, to include a contested environment."