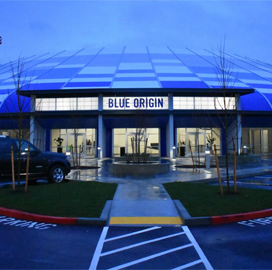 Blue Origin has inaugurated its new headquarters that will work to accommodate the development of the firm's Blue Moon lunar lander, GeekWire reported Monday.
Located at Kent, Wash., the O'Neill Building measures 232,885 square feet and is expected to hold 1.5K employees.
The company purchased a 30.7-acre site in 2017 for $14M to support the construction of the building. The headquarters houses an enclosed conference room, an employee lounge, kitchen facilities, workstations and a mockup of the Blue Moon lander.
Blue Origin reported that the BE-4 rocket engine has completed 6.5K seconds-worth of hot-fire tests to date and is scheduled to support the Vulcan rocket's first stage in 2021. In addition, the company is currently developing an orbital-class New Glenn rocket.