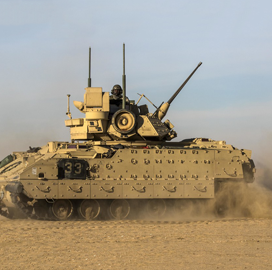 The U.S. Army has received proposals from vendors seeking to build prototypes for the Optionally Manned Fighting Vehicle program, which seeks to replace the service branch's Bradley fighting vehicles by 2026, Defense News reported Tuesday.
Raytheon and Rheinmetall Defense proposed the Lynx 41 infantry fighting vehicle for the OMFV program through their joint venture – Raytheon Rheinmetall Land Systems. The team was joined by Textron, which plans to produce the vehicle at its Louisiana-based facility.
General Dynamics' land systems business told the publication that it submitted its offer for the OMFV competition on Friday, Sept. 27, proposing a "purpose built vehicle" featuring a 50mm cannon and technologies from other systems.
The Army issued a solicitation for the OMFV program in March. The service plans to award a pair of contracts to build 14 vehicle prototypes each.