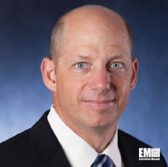 PAE has been recognized by the Virginia Department of Veterans Services in validation of the firm"™s hiring, retention and recruitment initiatives for veteran employees. DVS awarded the Virginia Values Veterans Program certification during a ceremony at PAE"™s headquarters on Aug. 28, the company said Friday.
The V3 Program was established in 2012 to help veterans secure training and employment opportunities. PAE noted it has employed 307 veterans, 107 of which were Virginia residents.
"A business has to look at where they should be based, based on support it gets from the community," said John Heller, CEO at PAE and a 2019 Wash100 Award winner. "Virginia does this and supports this," Heller added.