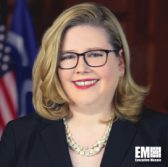 The General Services Administration and the Office of Management and Budget have awarded $300K each to three teams that won the Government Effectiveness Advanced Research Center challenge.
"The GEAR Center challenge is a creative approach that engages the U.S. research and development system to help government adapt and improve in a rapidly changing world," GSA Administrator and a 2019 Wash100 Award winner Emily Murphy said in a statement published Tuesday.
The competition seeks to challenge industry, academic and public stakeholders to come up with platforms to address government challenges in support of the President's Management Agenda. The three teams' projects focus on the establishment of a cybersecurity workforce program and government use of administrative data.
The Cybersecurity Workforce Collaboration team consists of Mitre, SAP, George Mason University, Mercyhurst University, Rochester Institute of Technology, University of Maryland, Drexel University, Specialisterne and DXC Dandelion Program. The Data for Impact project consists of SkillSource Group and Third Sector Capital Partners.
The Data and Evidence for Government and Academic Impact team includes the Johns Hopkins University Centers for Civic Impact, the Volcker Alliance's Government-to-University Initiative and the Mid-America Regional Council. The GEAR Center challenge's five honorable mentions and their respective projects are:
Delivering the Workforce of the 21st Century – Launchcode
Improving Grants Management Using Blockchain Technology – Mitre
Secure, Modern, and Mission Capable Credentialing – Institute for Defense Analyses, West Virginia Division of Homeland Security and Emergency Management, West Virginia National Guard, WVReady, University of Maryland-Center for Public Policy and Private Enterprise and Marshall University College of Information Technology and Engineering
Unlocking the Value of Government Data – Deloitte, Google, University of Maryland and Datawheel
Using Data to Put People at the Center and Improve Outcomes – New America Public Interest Technology and Community Solutions