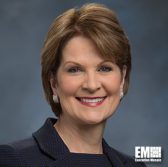 Marillyn Hewson, chairman, president and CEO of Lockheed Martin, has said that the company is honored to support the Veterans Apprenticeship and Labor Opportunity Reform Act through its veteran workforce initiatives.
Hewson, a 2019 Wash100 Award recipient, said in a Fox News guest piece published Tuesday that Lockheed"™s apprenticeship programs enable its veteran employees to receive benefits under the GI Bill, which covers housing allowances and stipends for items such as books and supplies.
She added that government, industry and academic entities should promote partnerships for employee training and retraining initiatives to address the nation"™s skills gap in science, technology, engineering and math.
"One of the ways we can come together to strengthen our nation"™s workforce is to create multiple pathways for career success for every worker," she said. "This means we must open up apprenticeships, internships, and job-training so workers can gain the skills and abilities they need to fill the jobs that will define the 21st century."
According to Hewson, Lockheed is one of the first companies to provide GI Bill benefits to its veteran employees as part of the VALOR Act. She also noted that 22 percent of the company"™s workforce is comprised of veterans as well as active military reservists.