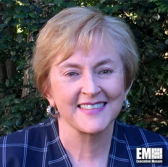 Gail Rissler, a more than two-decade veteran in the government information technology industry, has been appointed as senior vice president for MetroStar Systems"™ civilian and homeland segment, G2XChange ETC reported Tuesday. She will oversee the Reston, Va.-based IT services firm"™s growth, strategy development, service delivery and overall business operations in her new role.
Prior to her most recent capacity, Rissler spent over 10 years as a strategic planning consultant at Rissler Consulting and held executive roles at BRMi and Suntiva LLC. Earlier in her career, Rissler worked at McDonald Bradley as chief strategy officer and executive vice president.
MetroStar offers a range of services encompassing cybersecurity, enterprise IT and digital transformation including cloud engineering, mobile intelligence and data analytics. The company holds spots on contract vehicles under the General Services Administration, U.S. Army, Navy and Department of Veterans Affairs.