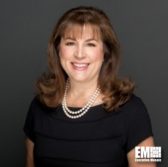 Nazzic Keene, CEO of Science Applications International Corp. and a 2019 Wash100 Award winner, told Defense News in an interview published Thursday that her top priority is continued focus on integrating Engility after SAIC closed the acquisition in January.
She said she wants the company to seek opportunities to advance growth and have a refreshed focus on talent development, acquisition and retention. Keene also shared her insights on the government shutdown and the state of merger-and-acquisition activity in the defense sector.
"We continue to look at our strategic imperatives and where an acquisition might accelerate our time to market or give us some market access and we'll continue to do that," Keene said. "So my sense is that M&A will likely continue as each company looks at their strategy and determines where they want to either double down or make some investments through M&A versus organic. And certainly we're going to look at that as well."
She also noted that the company "would look more to smaller to midsize ones to complement and support our strategy." Keene took the helm of SAIC on Thursday, succeeding fellow 2019 Wash100 Award recipient Tony Moraco.