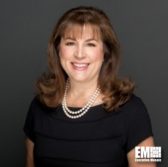 Science Applications International Corp. (SAIC) announced on Thursday that Nazzic Keene, 2019 Wash100 Award winner, has assumed the role of chief executive officer at SAIC effective today. Keene succeeds former CEO and fellow 2019 Wash100 Award winner Tony Moraco, who announced his retirement back in March.
"As a longtime leader at SAIC, Nazzic teamed with Tony over the past year to ensure a successful transition for SAIC and its shareholders," said Donna Morea, SAIC board chair. "We are excited for Nazzic to begin her tenure as CEO and confident that she will bring the level of strategic foresight, focus on the customer's mission and strong leadership to exploit SAIC"™s strengths and opportunities."
Keene will focus on enhancing SAIC"™s mission-critical solutions and services including IT modernization, digital engineering, space and intelligence capabilities that align with our national priorities. Her continued prioritization on customer relationships and enhancing the talent management strategy will also frame her priorities as she steps into her new role.
"I"™m honored to lead SAIC as one of the largest independent technology integrators in government services," said Keene. "We are in the midst of exciting change and will soon implement strategies that further invigorate SAIC, continue to differentiate our customer solutions, and confirm our dedication to employee development and shareholder value."
Keene is a well-respected industry leader with three decades of experience in information systems and technology services, and more than 20 years in executive management. Prior to serving as SAIC"™s COO, she was the president of the company"™s Global Markets and Missions sector and led Corporate Strategy.
In addition, Keene is the recipient of the Washington Business Journal"™s 2018 COO of the Year Award, the Washington Business Journal"˜s Women Who Mean Business Award and has served on the boards of numerous nonprofits.
About Science Applications International Corp. (SAIC)
SAIC is a premier technology integrator solving our nation"™s most complex modernization and readiness challenges. Our robust portfolio of offerings across the defense, space, civilian, and intelligence markets includes high-end solutions in engineering, IT, and mission solutions.
Using our expertise and understanding of existing and emerging technologies, we integrate the best components from our own portfolio and our partner ecosystem to deliver innovative, effective, and efficient solutions. We are 23,000 strong; driven by mission, united by purpose, and inspired by opportunities.