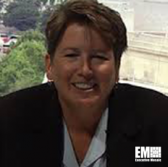 Susie Adams, chief technology officer of Microsoft"™s federal arm, has said that algorithm-driven deep learning technology can be used in a range of government activities such as predictive maintenance and fraud detection, FedTech reported Wednesday.
Adams told the publication that deep learning, which covers machine learning concepts, uses artificial neural networks similar to humans"™ biological systems to support processes like video analytics, image colorization, language recognition and natural language processing.
She said that while deep learning is resource-intensive, it can also provide "human-level performance on an entirely new class of problems such as object detection, handwriting decoding and so on."
Agencies can start leveraging the technology once they "begin implementing solutions that digitally transform how government meets its mission," she added.
The Department of Defense previously launched efforts on NLP technology development while the National Geospatial-Intelligence Agency and Transportation Security Administration both conducted similar projects on imaging and security screening capabilities driven by machine learning.