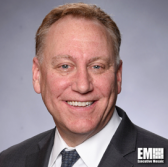 John Baylouny, an executive vice president and chief operating officer at Leonardo DRS, told Breaking Defense in an interview published Friday about the company"™s focus on innovation and efforts to meet the needs of clients.
"Throughout our businesses, many of the meetings look at the technical challenges we face on current or future programs. It"™s been that way since I started with the company," he said.
Baylouny noted several corporate acquisitions that allowed Leonardo DRS to expand and get into the infrared imaging technology market, such as the Raytheon"™s infrared business and Boeing"™s Rockwell electro-optics group.
He said that under the leadership of CEO Bill Lynn, the company integrated more than 25 groups into eight business segments that are aligned against the Department of Defense"™s highest priority programs, including defensive protective systems for armored vehicles, air defense, tanks and aircraft.
"We are hyper-focused on developing and bringing to market technologies that will protect our troops and give them the edge they need to succeed on the battlefield," he added.