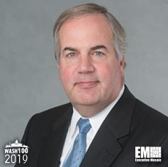 Iridium Communications has revealed the first batch of beta partners for the development of devices based on the company"™s Certus 9770 transceiver. Each of the 10 partners possesses an operational beta unit that has undergone trial for the development of the new transceiver and support products for service activation, Iridium said Wednesday.
These partnered companies are testing the transceiver"™s use for a variety of application areas such as maritime, aviation and government.  Certus 9770 is designed to transmit internet protocol data at L-band speeds from 22 Kbps to 88 Kbps, exhibiting performance more than 35 times faster than Iridium's previous transceivers.
The new transceiver will work to provide satellite-based connectivity for autonomous drones, remote internet of things and other communications activities.
Matt Desch, CEO at Iridium and a 2019 Wash100 Award recipient, said the device will feature native IP technology designed to accommodate deliveries of internet, email, voice, photo and video data. "This new breed of device is the start of a shift in what defines small-form-factor satellite communications technology," he said.
The 10 partner companies are:
Beam Communications
Blue Sky Network
Cobham
Lars Thrane
Marine Instruments
NAL Research Corporation
SkyTrac Systems
Telespazio

Wireless Innovation