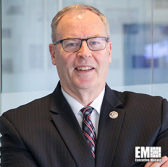 Robert Work, senior fellow at the Center for a New American Security and former deputy secretary at the Department of Defense, has joined the advisory board of cognitive computing analytics firm SparkCognition.
He joins the company as it aims to expand presence in the defense sector and help DoD accelerate technological readiness efforts, SparkCognition said Monday.
Work collaborated with former defense officials James Mattis, Ashton Carter and Chuck Hagel in the creation of the Pentagon's Third Offset Strategy, which sought to restore U.S. conventional warfare capacity.
The 27-year U.S. Marine Corps veteran served as undersecretary of the U.S. Navy during the Obama administration from 2009 to 2013, then worked as CNAS CEO for one year before he returning to the government.
"I look forward to working with SparkCognition to help bridge the relationship between the DoD and this company, which is dedicated to educating DoD members on the technologies that will shape our future," said Work, a two-time Wash100 winner.