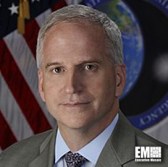 Cesium announced on Tuesday that Robert Cardillo, former director of the National Geospatial Intelligence Agency (NGA) and four-time Wash100 Award recipient, has joined the company"™s advisory board.
"Robert has unique knowledge of the needs and challenges of the intelligence and defense space along with a deep understanding of geospatial technology," said Patrick Cozzi, CEO of Cesium.
"His advice will be incredibly helpful as we increase our support in these communities and build the 3D geospatial platform to deploy on the ground in real world missions and national security operations," he added.
Cardillo served as the sixth director of the NGA in 2014 and led the agency through significant changes in the technology and global threat landscapes while also reinforcing NGA"™s position as a vital component of the national intelligence community. 2019 Wash100 Award winner Vice Adm. Robert Sharp succeeded Cardillo as the NGA"™s director in Feb. 2019.
Prior to his role as NGA director, Cardillo served as deputy director for Intelligence Integration with the Office of the Director of National Intelligence between Sept. 2010 and Aug. 2014. He also served as the senior manager for the U.S. Department of Defense for more than 27 years.
Cardillo graduated from Cornell University with a bachelor"™s degree in Government, and earned a master"™s degree in National Security Studies from Georgetown University.
He"™s also received a number of awards and honors throughout his career including two Director of National Intelligence Distinguished Service Medals, the Department of Defense Distinguished Service Award, two Presidential Ranks of Distinguished Executive, the Presidential Rank of Meritorious Executive, and the Chairman of the Joint Chiefs of Staff Joint Meritorious Civilian Service Award.