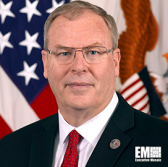 Bob Work, formerly deputy secretary at the Department of Defense, has been named to System High"™s board of directors.
Work brings his over 40 years of experience in defense strategy, programming, budgeting, national security and defense transformation to his new role, the company said Monday.
Before his appointment at DoD, Work served under the U.S. Marine Corps for 27 years, achieving the rank of colonel and working as undersecretary at the U.S. Navy. He is also the owner and president of TeamWork.
"Bob fully understands the challenges facing our country in developing, deploying, and preserving the capabilities of game-changing technologies and weapon systems," said Rob Howe, president and CEO at System High.
Based in Chantilly, Va., System High is a provider of security engineering and global protection services.