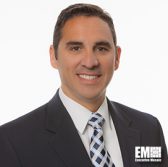 Chris Bellios, chief operating officer of Hexagon US Federal, recently spoke with ExecutiveBiz regarding the company's value in the federal market, the impact emerging technologies are having on the intelligence community and federal agencies, the most effective ways to drive growth and the new challenges of recruitment.
"In the end, we are in the people business."
ExecutiveBiz: What are some of the most effective ways that you've been able to drive growth for Hexagon?
"To drive growth, it was important for us to build on our existing base while expanding market share and customer diversity. Our approach to accomplish the second part was realized at the start of this year with the acquisition of Thermopylae Sciences & Technology.
Thermopylae has a track record of innovation, fast growth, and technology delivered to their customers in the field where it means the most. This dual approach leveraging our existing Geospatial technologies and software with added capabilities has proved to be a successful model for the growth of Hexagon US Federal."
ExecutiveBiz: How are emerging technologies such as AI, cyber and others making a positive impact and innovating for the U.S. military?
"The evolving state of warfare creates a need for increasingly accurate intelligence to be delivered quickly on the ground under very challenging conditions. Adversaries use sophisticated cyber techniques to disable communications.
At Hexagon, we leverage emerging technologies like AI and Edge Computing to assist in enhancing GEOINT awareness. This allows users to operate automated methods to leverage big data, to make actionable decisions, even in non-connected environments. Operators can then focus on the Intelligence at hand faster, without disruption, through high quality visualization."
ExecutiveBiz: What are the greatest challenges facing the intelligence community to adapt to emerging technologies?
"A big challenge in our industry is getting funding obligated at the speed and need of innovation. Both industry and the Federal Government continue to address this challenge, but as a community we need to accelerate ahead of whatever threat exists."
ExecutiveBiz: How do you manage to recruit and hire talent in such a competitive industry? What are the key characteristics you're looking for in your talent?
"There is an abundance of opportunity in our industry, so the demand to cultivate talent becomes mission critical for our customers. We strive to create a different experience for our future workforce; an experience that offers opportunity for growth. Key characteristics that we look for in our business include innovative thinkers with the ability to visualize the bigger picture. In the end, we are in the people business, so we have to get this right."
ExecutiveBiz: Where do you see Hexagon US Federal bringing the most value for the rest of 2019 and 2020? Are you trying to break into any new markets?
"Over the next 24 months we will continue to refine our go-to-market strategy and focus on high quality execution and achieving new program wins. We work to anticipate our customer's mission needs, and along those lines, we identified opportunities to double down on our investments. An example is the use of autonomous platforms, like our ARTEMIS program. The level of resolution and fidelity offered through this program allows for imagery collection for analysis at the tactical edge.
This program along with GEEP and Luciad expands our market, and along with our existing suite of geospatial and safety and infrastructure tools, well-positions Hexagon US Federal across Public Safety, DoD, and the IC."