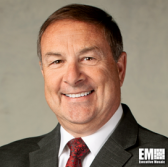 Chris Bogdan, a senior vice president at Booz Allen Hamilton, told SpaceNews in an interview published Wednesday that the company is pursuing the ground-based area of military space systems and sees growth opportunities in satellite ground control stations, cybersecurity and data analytics, among other areas.
"We don"™t build satellites, rockets or rovers," Bogdan said. "We are investing in open architectures, artificial intelligence, machine learning, data visualization."
Bogdan, a retired U.S. Air Force lieutenant general, told the publication that satellite ground platforms across the Department of Defense and intelligence agencies are geared up for a transformation into open systems.
"The aggregation and fusion of information to create a picture for command and control decision making is an important element, and it"™s where we"™re trying to invest and move into," he added.
He also discussed the ground system prototype the company developed under the Air Force"™s Future Operationally Resilient Ground Evolution program. Raytheon and BAE Systems are also competing for the FORGE initiative.