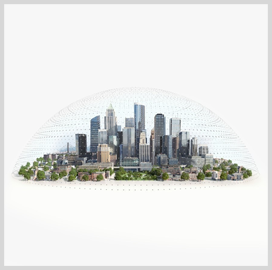 Lockheed Martin conducted a series of exercises to demonstrate how its radar platform will meet the U.S. Army's requirements for the Lower Tier Air and Missile Defense Sensor during the service's "sense-off" at White Sands Missile Range in New Mexico.
The company said Tuesday it teamed up with ELTA Systems on the two-week demonstration of its radar platform, which seeks to leverage a scalable architecture designed to meet evolving mission requirements.
"The LTAMDS program requires mature technology specifically designed to address the threat, which Lockheed Martin and ELTA both bring to the program," said Rob Smith, vice president and general manager of radar and sensor systems at Lockheed.
"We will leverage technology that is production-ready and proven in the field, allowing us to meet the Army's requirements quickly and provide qualified systems within 24 months after the initial contract award."
Lockheed and ELTA have been involved in the development of ground-based radar platforms. Lockheed is under contract to deliver gallium nitride technology for the Army's Q-53 radar system, while the latter company is in the manufacturing phase for the GaN-based ELM-2084 multimission radar designed to detect ballistic and aircraft targets.