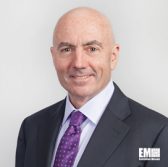 Artificial intelligence, machine learning, predictive analytics, digital twins, internet of things and other intelligent technologies that use and process data could provide actionable insights that could help aerospace and defense companies gain visibility into the supply chain and facilitate the decision-making process.
"The digitization of data will create visibility into the supply chain unlike we've ever seen before," Mark Testoni, president and CEO of SAP National Security Services, said in a statement published Monday.
Testoni, a 2019 Wash100 winner, cited how data digitization could help companies unify physical and digital supply chains and "get assets and resources where they need to be and when they need to be there."
"End customers and all the suppliers will be able to understand how to provide better support and create a better experience around the entire lifecycle of very complex products," he added.
Testoni mentioned how SAP could help aerospace and defense clients transition from legacy systems to novel platforms like the SAP S/4 HANA enterprise resource planning offering.