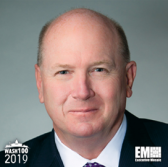 CACI International announced on Tuesday that Ken Asbury, six-time Wash100 Award recipient, will retire as CACI's president and chief executive officer at the end of June. John Mengucci, the current chief operating officer, will succeed Asbury effective July 1.
"I have been privileged to lead CACI through a period of transformation and I am proud of what we have accomplished together," said Asbury. "I am excited about the future of CACI under John's leadership and have confidence that the leadership, vision and values John has demonstrated, through the successful implementation of our strategic initiatives and management of our operations, will lead to continuing success."
With CACI, Asbury made business development his top priority, resulting in consistently strong contract awards and a vigorous focus on strategic campaigns to capture large and complex projects. His achievements include leading CACI's acquisition of Six3 Systems Inc., L3-National Security Solutions, Mastodon Design, and LGS Innovations.
Asbury joined CACI from Arctic Slope Regional Corp., where he served as president and CEO, overseeing an almost 100 percent increase in program win rate within a year. He also led one business unit to more than $6 billion in new contract wins and $3.7 billion in sales and achieved a 75 percent new business win rate and double-digit sales in another with Lockheed Martin.
As COO, Mengucci is responsible for the development of an accelerated growth plan, managing all operational policies, creating the company's recruiting and retention plan and leading transformational and mergers and acquisitions integration activities.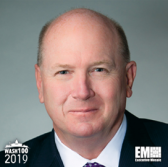 Prior to his appointment as COO, Mengucci served as CACI COO and president of U.S. Operations, with primary responsibility for all of the company's domestic, federal, state, and local markets, as well as the company's main business groups.
His accomplishments included evolving the company to successfully compete and capture larger opportunities in its market sectors, strengthening customer relationships through the delivery of operational excellence, identifying acquisition opportunities and leading the integration of acquired companies and capabilities.
"I appreciate the trust Dr. London and the rest of the Board has in my leadership and I am eager to leverage the success CACI has achieved under Ken to strengthen our operational and financial performance. We will continue to work with our talented and dedicated team to support our customers' missions, deliver sustainable growth and drive shareholder value," said Mengucci.