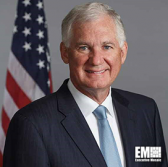 Leonardo DRS CEO Willian Lynn said the company has experienced "significant growth" within its naval electronics business area, Inside Defense reported Tuesday.
Lynn added that counter-unmanned aerial systems and vehicle protection products have contributed to improvements in the firm's land systems portfolio.
"I think the Army sensor business and the protection, the counter-UAS are particularly promising in terms of additional growth as well as the naval electronics," he told Inside Defense in an interview.