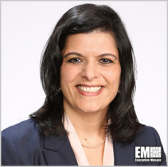 Nicole Puri, a director of Grant Thornton"™s public sector practice, has said that agencies should develop insights, identify opportunities for improvement and implement a governance structure to address enterprise risk management goals.
She wrote in a commentary published Monday on Federal News Network that in order to comply with the Office of Management and Budget"™s ERM directive, agencies need to use data analytics and conduct risk assessment meetings to develop agency strategies, direct research efforts and establish long-term service and performance goals.
She also urged agencies to evaluate information technology spending and improve governance to incorporate accountability and incentive-based collaboration while tailoring operations to agency needs and culture.
"One approach may not work for every agency, but options to consider include a methodology that rates modernization and maintenance IT funding priorities by risk to mission, a historical analysis and future projection of IT cost trends, or risk appetite and tolerance limits to automatically prompt risk actions," she said.
Puri previously worked as a risk management official at the Department of Housing and Urban Development and Pension Benefit Guaranty Corp.