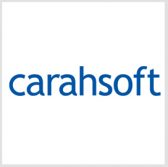 TYSONS CORNER, VA, March 20, 2019 "" Carahsoft Technology has secured a position on a potential $975.9M blanket purchase agreement from the U.S. Navy for the delivery of SAP (NYSE: SAP) software products and support to government, military and intelligence agencies, GovCon Wire reported Tuesday.
The Department of Defense said Monday the multi-award Enterprise Software Initiative BPA covers software maintenance, information technology professional services as well as cloud services, in accordance with the awardees' respective Federal Supply Schedule contracts.
The other companies named in this DoD ESI procurement are Advantaged Solutions Inc., Alamo City Engineering and Oakland Consulting Group.
About Executive Mosaic: Founded in 2002, Executive Mosaic is a leadership organization and media company. Executive Mosaic offers highly coveted executive events, breaking business news on the Government Contracting industry, and robust and reliable content through seven influential websites and four consequential E-newswires. Headquarters are located in Tysons Corner, VA. www.executivemosaic.com