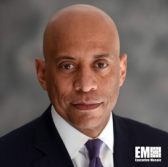 TYSONS CORNER, VA, February 20, 2019 "" Reginald Brothers, executive vice president and chief technology officer of Peraton, has said in an interview the Department of Defense needs more funding to support research and development efforts in order to keep pace with technology and remain competitive, GovCon Wire reported Feb. 11.
Brothers told Government Matters in the interview posted Feb. 7 that the U.S. also needs to sustain the development of measures to defend technology, noting the currently accelerated emergence of counter-technology capabilities.
He cited artificial intelligence as a capability that the DoD and other federal agencies need to advance, with the right data to train algorithms and measures to establish security, trust and transparency.
About Executive Mosaic: Founded in 2002, Executive Mosaic is a leadership organization and media company. Executive Mosaic offers highly coveted executive events, breaking business news on the Government Contracting industry, and robust and reliable content through seven influential websites and four consequential E-newswires. Headquarters are located in Tysons Corner, VA. www.executivemosaic.com