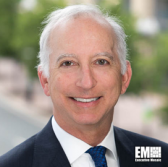 Executive Mosaic is honored to introduce John Goodman, CEO of Accenture Federal Services, as an inductee into the 2019 edition of Wash100 — Executive Mosaic's annual selection of influential leaders in the government contracting arena — for his efforts advancing digital technologies and intelligence distributed systems. This marks Goodman's second consecutive Wash100 award.
In November 2017, Goodman became CEO of Accenture's federal arm after serving for five years as chief operating officer.
In an interview with ExecutiveBiz, he said the company has started investing in artificial intelligence, which he believes could help government agencies facilitate data analysis, claims processing and delivery of citizen services. The 20-year veteran also discussed how AFS' Digital Studio helps the federal government leverage digital technologies to carry out their missions.
"Our focus is two-fold: first we want to bring our clients into a studio space where we can jointly explore how to solve problems from a human-centric perspective," said Goodman. "Second, we want to help them create digital experiences for citizens that mirror user experiences in the private sector."
In June 2018, AFS released a report citing AI, data veracity, augmented and virtual reality technologies, microservices and blockchain technologies and intelligent distributed systems as the technology trends that could help agencies advance their digital transformation initiatives and develop relationships with citizens and business partners.
"Citizens today are reimagining their lives around digital innovation," Goodman said with regard to the report. "Government can capitalize on this trend by enabling a true two-way exchange with the people it serves."
AFS secured a number of accolades in 2018. The company received the James S. Cogswell Outstanding Industrial Security Achievement Award from the Defense Security Service in June.
"As the security landscape constantly shifts, we are proud to collaborate with DSS to protect the national security interests of the country and help our clients strengthen their security posture," Goodman said.
A month prior to that, AFS accepted the "Above and Beyond" award from a DoD group for providing non-mandated benefits to employees who serve in the National Guard and Reserve.
Goodman is also one of the executives named to the Northern Virginia Technology Council's board of directors for fiscal year 2018-2019 in June.
Goodman joined Accenture in 1998 and started as a member of the communications and high technology practice. He has also held senior leadership roles such as managing director of defense and intelligence portfolio and head of management consulting for the firm's global public service operating group.
Executive Mosaic congratulates John Goodman and the Accenture team for their selection to receive this award.
About The Wash100
This year represents our sixth annual Wash100 award selection. The Wash100 is the premier group of private and public sector leaders selected by Executive Mosaic's organizational and editorial leadership as the most influential leaders in the GovCon sector. These leaders demonstrate skills in leadership, innovation, achievement, and vision.
Visit the Wash100 website, where viewers can submit 10 votes for the executives of consequence they believe will have the most significant impact in 2019.