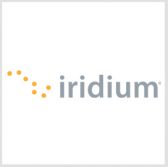 TYSONS CORNER, VA, February 11, 2019 "" Iridium Communications (Nasdaq: IRDM) has hired Suzi McBride, most recently chief operating officer of OneWeb who served as a vice president at Iridium three years ago, to return to the company as COO, GovCon Wire reported Feb. 4.
McBride, whose appointment took effect Monday, will oversee the operations of the Iridium satellite network and work with previous COO Scott Smith as he facilitates the transition as a consultant through his retirement by March 15, Iridium said Feb. 1.
"We're very fortunate to be able to wish Scott a happy retirement with a monumental achievement like Iridium NEXT under his belt, while welcoming someone with Suzi's experience, expertise and leadership abilities," said Matt Desch, CEO of Iridium and a 2019 Wash100 awardee.
About Executive Mosaic: Founded in 2002, Executive Mosaic is a leadership organization and media company. Executive Mosaic offers highly coveted executive events, breaking business news on the Government Contracting industry, and robust and reliable content through seven influential websites and four consequential E-newswires. Headquarters are located in Tysons Corner, VA. www.executivemosaic.com