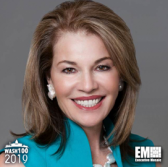 Executive Mosaic is honored to introduce Teresa Carlson, vice president of worldwide public sector business at Amazon Web Services, as an inductee into the 2019 edition of Wash100 "" Executive Mosaic"™s annual selection of the most influential voices in the government contracting arena "" for her efforts to use cloud-based platforms and applications to inspire innovation in government markets. This marks Carlson"™s fifth consecutive Wash100 win.
Carlson has been with AWS since 2010 and oversees the delivery of services to state, regional, local governments, educational, non-governmental and nonprofit organizations. In an interview with ExecutiveBiz, she discussed the role of the cloud in government markets.
"We"™ve seen our government customers use the cloud as a springboard to do everything from detecting cyber threats and storing data for use in tactical warfare, to predicting coastal flooding and easing traffic congestion," she said. "The cloud is not just providing agencies with infrastructure solutions, but is [also] laying the groundwork so that the government can tap into true innovation."
In June 2018, AWS launched new applications on the GovCloud platform, which hosts sensitive workloads and data in compliance with the Federal Risk and Authorization Management Program and other security regulations.
During the AWS Public Sector Summit, the company introduced Amazon Inspector, an on-demand security evaluation service designed to improve the security of the Amazon Elastic Compute Cloud platform. "Inspector makes it simpler to automate your FedRAMP and [Defense Department] security compliance by automatically assessing and checking for vulnerabilities and deviations in best practices from those architectures," Carlson said.
In October 2018, the National Institutes of Health and AWS partnered to help agency-backed researchers incorporate cloud-based technology platforms into biomedical research efforts as part of the Science and Technology Research Infrastructure for Discovery, Experimentation and Sustainability program.
YourStory reported in November that the FBI, the World Bank and the U.K. Home Office are using the AWS cloud to facilitate real-time decision making. "We listened to our customers in the government to ramp up disaster recovery and reduce cost of completion while launching new applications," Carlson noted. "AWS partners will help government institutions with security and scale by crunching data and using their developers to build data-led outcomes."
The FBI adopts AWS cloud to process classified and unclassified data for counterterrorism investigations. Carlson said the platform provides the bureau access to big data analytics and other services intended to support national security efforts.
Carlson, a five-time Wash100 recipient, joined LMI"™s board of directors in June. She has held leadership positions with Microsoft and worked in the health care sector as a VP. Carlson has more than 20 years of experience as a change management and innovation executive and 15 years as a business manager and practitioner.
Executive Mosaic congratulates Teresa Carlson and the AWS team for their selection to receive this award.
About The Wash100
The Wash100 award, in its sixth annual year, recognizes the most influential and impactful executives in the GovCon industry, as selected by the Executive Mosaic organization in combination with web nominations from the GovCon community. Representing the best of the private and public sector, the winners demonstrate superior leadership, innovation, reliability, achievement and vision.
Visit the Wash100 website, where viewers can submit 10 votes for the executives of consequence they believe will have the most significant impact in 2019.