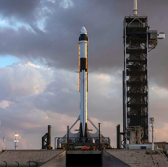 SpaceX has started preparations for the uncrewed test flight of its new Crew Dragon spacecraft scheduled for mid-January, Space.com reported Sunday.
The company in the past week transferred the spacecraft aboard a Falcon 9 rocket to Launch Pad 39A at NASA's Kennedy Space Center in Florida.
SpaceX hopes to launch Crew Dragon on Jan. 17 under the space agency's Commercial Crew program.
If successful, the initial test would enable the company to move to the first crewed test flight of the spacecraft, which would bring astronauts to and from low-Earth orbit.
SpaceX and NASA initially scheduled the manned launch for June 2019. The agency chose astronauts Bob Behnken and Doug Hurley to be the first persons to ride Crew Dragon for the test.
SpaceX is also currently building a larger crewed and reusable spacecraft, dubbed Starship, to carry up to 100 people to Mars. It aims to make its first test flights in the next few months.