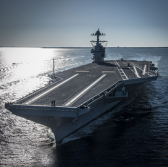 The U.S. Navy told Congress its plans to buy two Ford-class aircraft carriers in an effort to save billions of dollars as the military service pursues its 355-ship fleet goal, Reuters reported Tuesday.
The service branch approached Huntington Ingalls Industries last year to obtain a detailed pricing on the potential cost of a block buy.
Sen. Tim Kaine, D-Va., and Huntington Ingalls CEO Mike Petters said pursuing a block purchase would allow the Navy to significantly reduce acquisition costs.
Kaine added the move would also help save billions of taxpayer dollars and provide more stability to the Hampton Roads shipbuilding community in southeastern Virginia.
The Navy commissioned its the first Ford-class aircraft carrier USS Gerald R. Ford in 2017.
The service said it plans to provide nearly $43B in funding for the three Ford-class ships. Under its 355-ship fleet initiative, the branch intends to acquire 12 aircraft carriers.