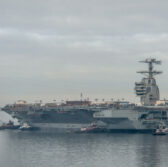 The Department of Defense on Monday notified Congress that it would proceed with a block buy of two aircraft carriers in a move that could pave the way for the U.S. Navy to award the contract by the end of January, USNI News reported Wednesday.
"The Navy has reached a price agreement with Huntington Ingalls Industries"™ Newport News Shipbuilding for a two-carrier buy of CVN-80 and 81," a spokesman for the service branch told the publication.
"Further information will be available upon contract award."
A congressional staffer said the Navy could realize approximately $4B in savings through the two-carrier deal.
According to the report, the fiscal 2019 National Defense Authorization Act authorizes the Navy to pursue the block buy provided that the DoD secretary issues at least 30 days prior to the contract award a certification letter, which states that a fixed-price contract for the two ships would lead to significant savings.