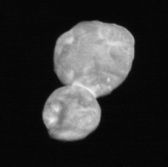 NASA's New Horizons exploration spacecraft, built by Johns Hopkins Applied Physics Laboratory, has captured the image of the most distant space object explored in human history yet.
The spacecraft, from a distance of 10.6K miles, photographed "Ultima Thule," an object located within the Kuiper Belt, JHU APL said Wednesday.
The object measures about 19.3 mi in length and takes the shape of two connected spheres.
"Never before has any spacecraft team tracked down such a small body at such high speed so far away in the abyss of space," said Alan Stern, principal investigator of the New Horizons mission.
The object reflects planet formation processes that took place billions of years ago.
New Horizons will deliver more data with higher resolution images of Ultima Thule over the next months.
"In the coming months, New Horizons will transmit dozens of data sets to Earth, and we"™ll write new chapters in the story of Ultima Thule "" and the solar system," said Helene Winters, the mission's project manager.­­­