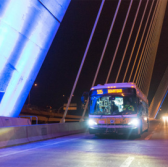 The Massachusetts Bay Transportation Authority has selected BAE Systems to provide extended-range propulsion systems to power new hybrid electric buses in Boston.
BAE said Wednesday it will supply 194 Series-ER systems in an effort to help MBTA address emission reduction and noise pollution goals for the city's transit bus routes.
Series-ER's battery is rechargeable through an on-board generator and regenerative energy a bus produces when it slows to a stop.
The company noted its technology helps save more than 22M gallons of fuel and reduce carbon dioxide emissions by 250K tons each year.
Transit operators in Nashville, Tenn., uses the hybrid-electric engine system to operate buses.