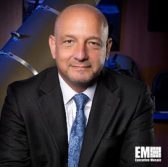 Raytheon has selected Elbit Systems' U.S.-based subsidiary to provide a laser component for the Multi-Spectral Targeting System, an electro-optical surveillance system designed for use with military aircraft systems.
Elbit said Thursday its subsidiary will deliver the component, known as the Two Color Laser System, to Raytheon in 2019.
Raanan Horowitz, president and CEO at Elbit Systems of America, said that TCLS is designed to boost the targeting system's accuracy and flexibility.
He added that the laser system is also intended to minimize chances of collateral damage.